We all know these adorable big-headed dolls. In recent years, they have become a trend, and virtually any character, real or fictional, is represented in this format.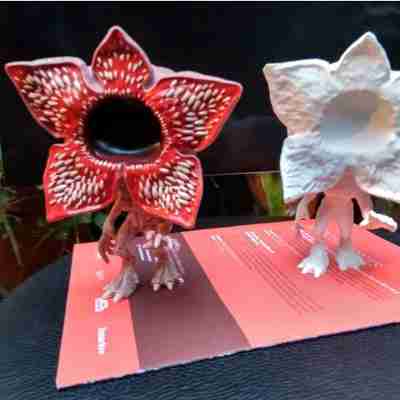 That is why many of you have probably wanted to print one of these dolls with your printers, so today we bring you a few models that you will surely love.
Funko pops to print in 3D for free
If we search in Thingiverse with the keywords "funko pop" we will find that most of the results refer to add-ons for the original funko pops. This can be interesting if we are collectors, since we will find from bases or stands to accessories for our funkos.
If you are looking for funko pop models themselves, you will find that there is not a large assortment of quality models available for free. However, there are a few that might be interesting
Demogorgon from Stranger Things In this case it is a scan of the original funko, so it is a fairly accurate copy. If you like Stranger Things you have to try this model. You can find it on Thingiverse. Venom In this case we have the spectacular work of a Cults3D artist. This is Venom, inspired by the recently released Sony film. You can find it in Cults3D.
Stan Lee This incredible work will allow us to print in our own house a funko pop of the one and only Stan Lee. If you are a fan of comics or superheroes in general, you can't miss printing this funko as a tribute to the great Stan. Neo, from Matrix This model is special and different. It comes designed in different pieces to be printed in their respective colors. This way you can print the colors separately and then paste them to have a full color figure. This same author has more models but they are not free, we will talk about them later.
Premium Funko pops for 3D printing
We have already shown you four very cool models that you can download and print for free, but you should know that there are some more premium models if we are willing to pay a small cost.
These models are generally better designed or have additional advantages. In the case of the ones we are going to show you now, they are models that are designed to be printed in pieces and assembled later. This way we will not only have a much easier printing but, after a simple assembly, we will have a full color piece that will be the envy of our printer friends.
Link, from the Zelda series This is one of the best in the collection. This is Link, from the Zelda video game saga. This colorful model can be easily printed following the author's instructions, and we will have a full color funko without the need of painting or post-processing. Homer Simpson I don't think there's anyone who doesn't know Homer Simpson (or maybe where you live you know him as Homero). In this model we can see the father of the Simpson family with his characteristic Duff beer.
Mazinger Z Mazinger Z, from the highly acclaimed cartoon series of our childhood arrives at our printers. This model, of the author's own creation, as there are no official Mazinger funkos, preserves many of the details of our favourite combat robot. Doaremon The cosmic cat that won our hearts as children has returned. In this model we can see the blue robot with all its details. Even the real spinning cap!
Create your own Funko Pop to print in 3D
Although we've shown you quite a few models that you can print out, you may not have found one that completely convinces you. If so, you can always design your own 3D funko pop.
You can design your funkos from scratch, modelling all parts of the model yourself. For this task we recommend you to use a simple digital sculpture program like Meshmixer or Sculptris. Either of these two programs will allow you to digitally sculpt your model into the desired shape.
Digital sculpting is not an easy process, so you may feel more comfortable using parametric design programs such as Fusion360. This program is free for people who use it as a hobby, so if you want us to do an article on Fusion 360 please leave us a comment.
A third option is to customize a blank model like this one or this one.
All we have to do is download the model and customize it by adding elements we like through a program that allows us to work with 3D models. For this we have many possibilities. The easiest program is probably 3DBuilder, a free and very powerful program that we already talked about in this article and that will surely surprise you. We can also use Thinkercad or Meshmixer for this task, since all of them are capable of making this combination of models.
We can download all kinds of accessories to add to our model, hats, helmets, swords, guns, suits, shoes… Your imagination is the only limit!
If you want us to make an article guiding you through the process of customizing one of these "blank" funko pops models to create a custom one, leave us a comment: we will be happy to read you.
Conclusions
Today we have shown you funko pop models that you can download to print on your own printer. Some of them are free, others are paid, but all of them are great. Don't hesitate to download some of them and if you need them, we'll help you print them!